Thinking of Becoming a Fashion Designer? Here's What You Need to Know
So, you are thinking of becoming a fashion designer? Obtaining a fashion design course in Kolkata can be a great way to begin your career as a fashion designer. With that being said, the fashion industry is a competitive field, and even keeping up with the latest trends requires a full-time job.
However, we have some expert advice that will help you land your big break in the industry if your heart is set on designing gorgeous clothing for the most upscale retailers in India and the rest of the world.
How can you start your career in fashion designing?
You need to possess certain skills if you want to become a fashion designer. In addition, you must possess a formal degree in fashion design in order to be competitive in your industry.
Possessing a degree from a reputable institution such as INSD Kolkata will unquestionably improve the appeal of your resume. And as you are already aware, the fashion industry is very competitive. You can uplift your status as a fashion designer by attending a reputable fashion designing institution. The likelihood that you will be chosen for a job through campus placement will also rise if you have a degree.
Therefore, obtaining a bachelor's in fashion designing in Kolkata or a degree in fashion designing from a reputable college is the first step to starting your career in fashion designing.
What does it take to become a Fashion Designer?
Becoming a fashion designer is a lucrative and satisfying career path. The majority of youngsters are rather clear about their career goals. This information is useful in this competitive industry. You will establish the groundwork for your future studies and acquire the skills you need to begin your journey by selecting the appropriate high school courses.
The academic route you must take is the same whether your passion is designing Women's Summer Dresses or the newest business attire. So, let's have a look at what it takes to become a Fashion Designer.
As a fashion designer, you'll create fashion ranges, typically specializing in a particular type of clothing, in one of the following areas:
High fashion
High-street fashion
Designer ready-to-wear fashion
Your day-to-day activities will usually involve:
Working on design briefs
Colors, fabrics, and shapes trend analysis and predictions
Creating mood and concept boards
Manufacture and materials cost estimation
Finding suppliers and embroidery services
Developing 'blocks' through patterns
Supervision of sample clothing production
Preparing in-house presentations for the finance department, merchandisers, etc.
Additionally, you might occasionally need to collaborate with sample machinists and garment technologists. You may also be responsible for working with overseas manufacturers to guarantee accurate design reproduction.
Is fashion designing a good career?
One of the most demanding and prestigious career choices you can make is becoming a fashion designer. Given the fierce competition in the industry, it's crucial to understand what distinguishes a fashion designer from the rest.
Although choosing fashion design as a career may initially seem difficult, it's a terrific option for many reasons. First off, fashion design is among the most challenging and creative professions you can choose. Fashion design is a rapidly expanding industry because there are so many different types of clothing available. It's a unique opportunity to be able to choose your own career path as a fashion designer.
Additionally, you'll need to come up with designs from scratch, which calls for a lot of imagination and creativity. Not to mention, fashion design is among the most rewarding careers you can have. You just can't find that kind of self-fulfillment and fulfillment in any other industry. Choose fashion design as a career if you enjoy creating clothing and want to establish yourself in the industry.
How hard is it to become a fashion designer?
Today's fashion industry is extremely competitive. Being a successful fashion designer doesn't require any official schooling or qualification, but that doesn't make the task any simpler. A mix of drawing, sewing, and design talents, knowledge of the fashion industry, and unmatched endurance are all required to become a fashion designer.
You must acquire the abilities required to work as a fashion designer before you can begin. This covers sewing, design, business, marketing, and networking, as well as drawing or computer-aided design (CAD).
Earning an associate's or bachelor's degree in fashion design or a closely connected subject like fashion administration, fashion merchandising, brand management, art history, graphic design, or entrepreneurship is a wonderful way to accomplish this.
If you want to become a fashion designer and if you're reading this blog, we at INSD Kolkata different fashion designing courses in Kolkata after 12th on offer.
Conclusion
Although it could seem a little difficult, there is a huge scope if you become a fashion designer. A degree in fashion design is required. In order to understand things practically and gain some work experience, you might also need to do some internships.
You must decide whether you want to launch a business or take a simple job. You must create a really impressive portfolio to land a job so that the company hires you. For business, you will need to invest in a few important pieces of machines and equipment.
At INSD Kolkata, you can develop the practical skills and fundamental creative design knowledge required by the worldwide fashion business while also letting your creativity take flight. Through guest lectures, seminars, and workshops led by renowned stylists, academics, and practitioners, your understanding of how the industry functions will expand. Sign up for our UGC recognized fashion designing courses in Kolkata today!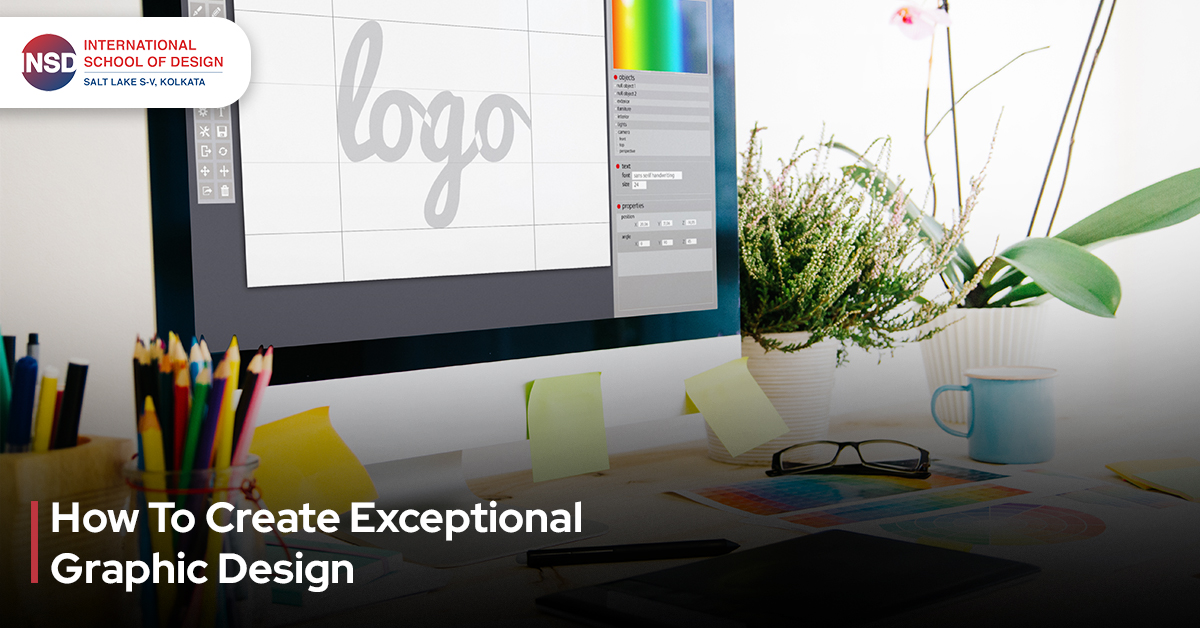 September 22, 2023

INSD Kolkata
Graphic design is a powerful tool that can elevate your brand, convey a message, and captivate an audience. Whether you're a seasoned designer or just…