From Student To Professional: Making The Transition Into A Graphic Design Career
A student passionate about graphic design will consider a career in the field. He will search for the prospect of moving from student to professional status. But it may be both exciting and daunting. You must psychologically prepare yourself for this shift. It is vital if you want to pursue a career in this field. However, you can successfully make this transition with the right mindset, skills, and resources. You can build a meaningful career in graphic design. In today's article, we'll go through a few graphic design-related careers out there.
Changing careers might be helpful. It is true if your current one needs to provide you professional joy, security, or satisfaction. This you will need. Graphic design is a popular field of employment. It is essential for those with artistic talents. They would want flexibility in their professional lives. The Graphic Design Course In Kolkata is the best choice here. Have you ever thought about a career in graphic design? Then it would do you well to acquire the knowledge and skills necessary to accomplish the job well.
What are the upsides and prospects for people who choose to work as graphic designers?
We will get into the specific suggestions for making the transition. Before that, let's take a moment to talk about some of the benefits and possibilities of a career in graphic design. The benefits of working as one serious graphic designer are many.
There is a Great Demand
The need for graphic designers is expected to keep growing. That is because more companies seek aesthetically appealing website designs. The marketing materials and social media content aids this. Some professionals may choose to enter this field because of the stability of the job and the possibility of promotion.
You Can get the Passion
Graphic designers often have a lifelong passion for the subject. They flourish in environments where they can express their creativity. So it is unusual for them to transfer careers. The Graphic Design Course In Kolkata comes as quite effective here.
Have the Best Compensation
Some individuals choose to get into graphic design instead of another area. That is because of the higher salary potential. According to the statistics, the median yearly salary for a graphic designer is Rs. 480000. However, this number may vary. It does so widely depending on factors. That includes the designer's level of experience and the industry they work in.
Satisfaction with one's job and one's career
You indeed have a stable job with good pay and benefits. It is just like the work you're doing. You may be more fulfilled in your employment. You've hit a professional plateau. There you're neither being pushed nor feeling comfortable. Then, consider a job as a graphic designer.
Advice on Beginning Your Graphic Design Profession
You may make a smooth transition into a career in graphic design. You can do that by building a strong portfolio. It connects with influential people in the field. You should stay abreast of the latest design trends and technology. I'd want to go even further into these topics in the following lines. Your education at the Graphic Designing Colleges In Kolkata will be the best choice here.
Create a Diversified Investment Strategy
As a graphic design student, your portfolio is your most essential tool. It is also the key to unlocking the doors leading to your future success. You will find an employee or business owner in the field.
Time to Build the Best Network
Everyone may benefit from expanding their network of professional contacts. Graphic designers are the same if they want to rise in their field. Spend some of your time attending industry events. There, build your social media following to attract other designers.
Keep up with the Latest Developments in Your Field
Indeed, you will need more than innate skills to get you far in graphic design. And it's also true that there are, as in every field, some standards that should be adhered to. It's crucial to keep learning new things and developing one's skills. You should make time in your schedule to learn about the latest innovations in the business. Go for things like new software, features, and trends. Get it all from the Graphic Design Institute In Kolkata.
Tips for graphic designers looking to switch careers
There are particular actions you should take to transition into a new career as a graphic designer. They may depend on your current degree of expertise, abilities, and professional aspirations. A successful transition into your new job requires taking a few crucial steps.
Figure out what you want to accomplish in your career.
Making any significant career shifts? Then it is crucial to establish your professional goals. It depends on your interests and skills; graphic design may lead you to many different areas. To reach your goals, consider researching and learning more about the demand the skills and information you'll need.
Learn by doing as a designer
Gaining professional experience is essential once you've mastered the fundamentals of design. Finding an internship or entry-level freelance employment in the design industry will help. You will be able to learn the ropes and hone your skills. In such a case, consider making use of one of these opportunities. Building a portfolio and attracting clients will become much simpler the longer you've worked as a designer.
Create a website showcasing your finished projects
You've built up your resume. You have a collection of your prior work to showcase. So it's time to launch your professional website. Your website is a great place to promote your work. Provide further information about the services you provide. Prospective clients may learn more about you and your business. They do that via your website and then get in contact with any inquiries. Consider whether you would be interested in applying for positions. This position should be situated inside the organization.
Final Thoughts
This might lead us to the conclusion that pursuing a career in a sector. That includes graphic design after first studying it as a student. It is, without a doubt, a rewarding experience for everyone. Focus on building your portfolio, networking, and getting real-world experience. Keeping up with industry developments and persistence will help you navigate this change. It will advance your graphic design career. For that, enrolling at the Graphic Design Colleges In Kolkata will be essential. Don't hesitate to pursue your passion and turn graphic design into a profession.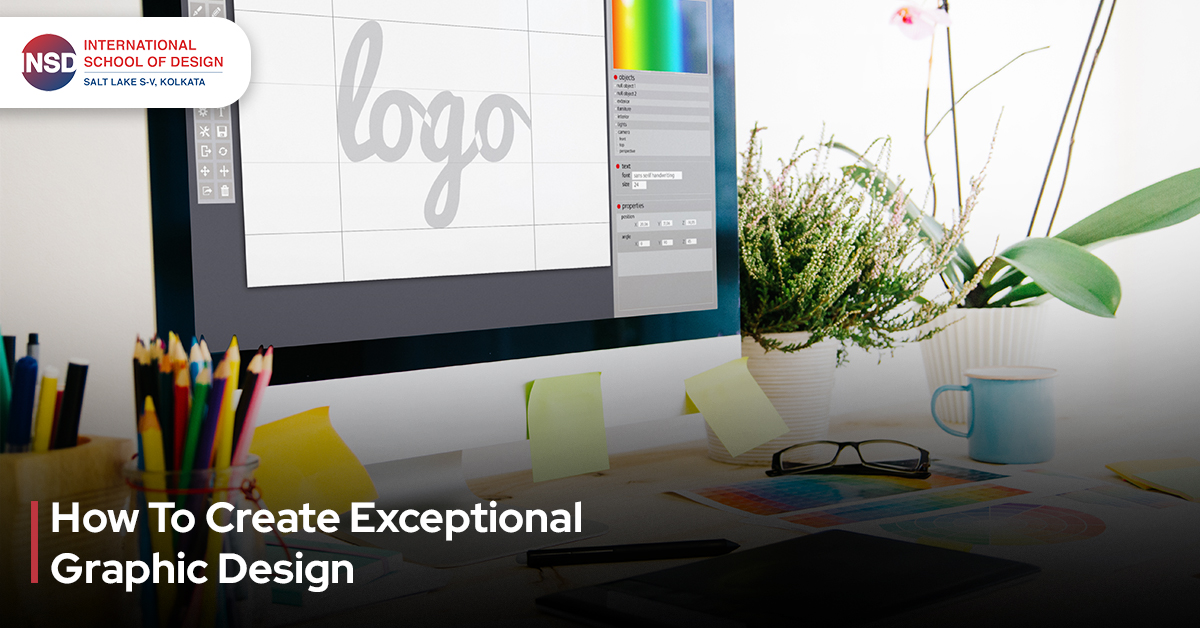 September 22, 2023

INSD Kolkata
Graphic design is a powerful tool that can elevate your brand, convey a message, and captivate an audience. Whether you're a seasoned designer or just…